Grower Mixes and Base Blends
Engineered by ProSource Plus
The graded textures of our Virginia pine bark blends are dialed in for the water retention and air porosity qualities your crops need. By adding amendments like peat moss, perlite and coir to our base of aged bark, we can provide a nursery blend in any texture, air porosity, and water holding capacity a grower needs for success.
Available by bulk truckload, totes or bags and delivered to your door.
The chart below shows our grower mixes rated by water retention percentages.  HINT>>>Our product Item number is corresponds to water holding  percentages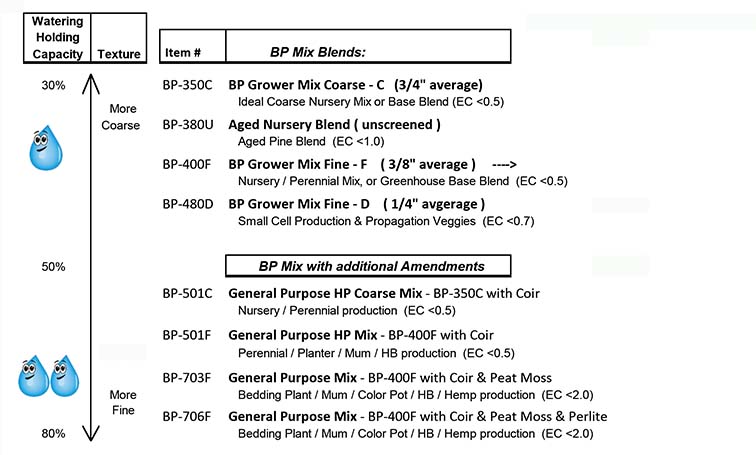 Pine Bark
If you blend your own mixes, we can provide you with quality aged and graded Virginia pine bark,  ready for use in your own grower mix recipe.  Shipped from our facility in Virgina in walking floor truckloads or dump truck.  Click the leaf for more info on our pine bark products. 
Base Blends
ProSource Plus base nursery blends are alive with healthy naturally occurring bio activity and will be an asset should you choose to amend further with your own inputs.  Available in textures coarse to fine. Click the leaf to learn more about our base nursery blends
Amended Grower Blends
Amended blends by ProSource Plus have just what you want and need to grow successfully.  We've engineered successful potting mixes that are ready for your perennials, hanging baskets, even greenhouse crops. Click the leaf to learn more about our amended grower blends
Bulk Coir Shipped Direct
Take the stress out of growing with coir. We can ship bulk to your door and we have plenty of options for you.  If you need pith, chips, or a custom combination,  ProSource Plus is your best source. We've got pallets of coir block, or expanded coir in totes or bags.   Click the leaf for more info on ProSource Plus coco coir products